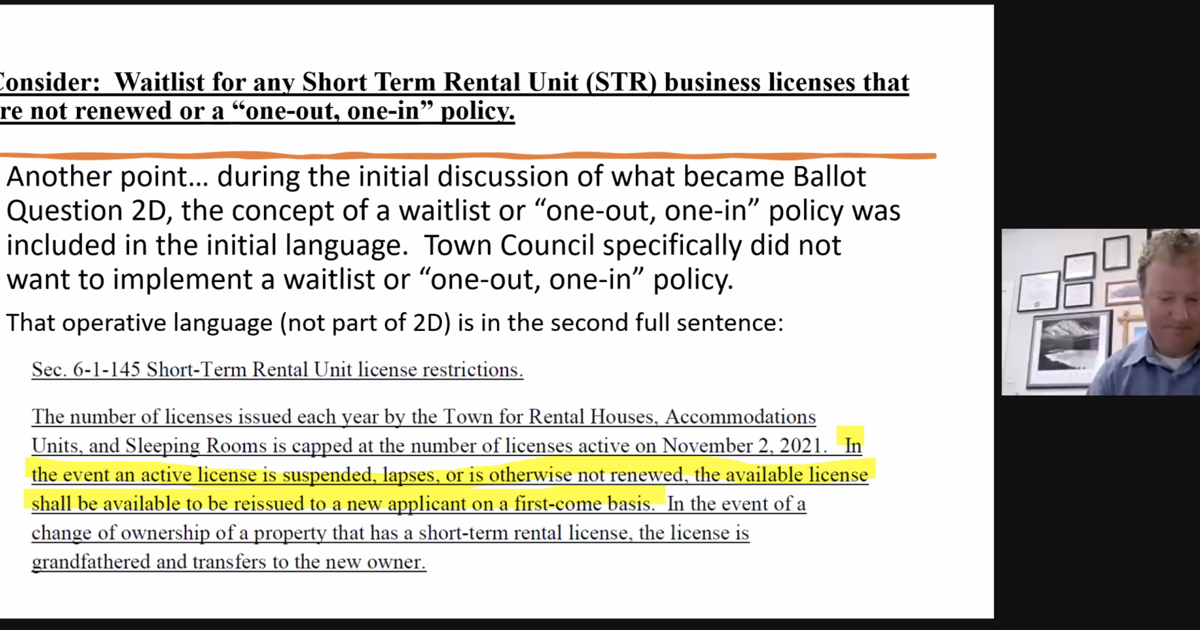 Council wrestles with ballot amendments STR | News
Telluride City Council once again held a lengthy discussion on short-term rentals (STRs) on Tuesday, this time in a business session that placed amendments — as it falls within its purview — on the 2D voting question, which Telluride voters approved in November.
Question 2D, which the council placed on the ballot just days before the deadline for certification by the San Miguel County Clerk, was one of two posed to city voters who addressed the issue of STR. The measure, which includes a two-year pause on the issuance of new STR licenses until November 2023 and will generate $200,000 a year through a 100% increase in STR license fees, garnered 55% of the vote. Because it was a council initiative, the council can legislate changes to apply after the election, unlike the rejected question 300, which was a citizens' initiative. This issue was intended to limit STRs to 400 and to hold an annual lottery to distribute the licenses (primary owners and lodging establishments would be exempt).
City staff, led by city attorney Kevin Geiger, released a memo targeting four talking points the council requested for consideration. Two of the talking points were quickly dispatched by unanimous council.
First, the board agreed to let last year's emergency order calling for a halt to issuing short-term business licenses expire on the prescribed date, February 24. The council enacted the ordinance in August.
The second, easily agreed-upon point of discussion was to facilitate the transfer of STR licenses if a unit was subject to zoning that required it to be part of the STR pool. The original language of the 2D question dictated that the transfer should happen only once. The new language accounts for the unusual but possible sale of a unit in a single year, or according to Geiger's memo to the board, "Unlimited transfer exception for short-term rental units that are restricted by the land use or zoning regulations prohibiting long-term rentals or owner occupancy as a principal residence.
The next topic of discussion was whether an exception for units that were primary residences needed to be changed in the 2D language. This exception, which was a component of question 300, would have allowed primarily owner-occupied units to obtain an STR license, an exception that likely would have resulted in an increase in the cap proposed by 300 by 400 licenses. The Board and staff recognized that this exception change to 2D would potentially increase the number of licenses issued. Since a number of people living in town full-time find short-term rentals – for festivals, vacations and other instances where they plan to be away – a way to cover the costs of home ownership, the council was generally supportive of the exception. However, the question of how to determine what makes one's dwelling a principal residence has generated long discussions. Some council members asked for definitive residency requirements and how this could be proven, but council member Lars Carlson pointed out that wherever the unit would be in the various districts of the city, it would prove a natural limiter. .
"With primary residences, they will still be subject to zoning restrictions for how much they can rent," Carlson said. "And so it's not like we're opening an STR for townhouses, which are going to be rented year-round. It's going to be three weeks a year.
Council member Geneva Shaunette sought to refine the definition of principal residence by excluding those who may own property elsewhere, but council member Meehan Fee countered that there are many residents who own in makes vacation homes.
"There are a lot of people in this community who have homes here and a vacation home somewhere else," Fee said. "And it's still their main community. It's still their primary residence, so I feel like that might be a bit of an aggressive qualification for the primary residence disqualification. So I would like that either clarified in terms of how long they spend here or removed entirely.
Council member Adrienne Christy expressed some frustration with the conversation's turn to specifics.
"I feel like we're clinging to things. That doesn't mean this discussion is invalid, because I think at some point we're going to have to have this discussion," she said. "But as 2D supporters have told us time and time again, they have asked for a break. Let's take a breath. Let's not legislate too much. Let's see what happens. And so we're discussing a very small element of this break and I think we've given enough guidance to the staff in regards to the primary residence. I struggle with this whole line of questioning because it's the assumption that people are trying to get us and they're trying to sneak into the system and I agree there are people who want to do it and these people will find a way come hell or high water. But I think the idea behind it is to grant a few principal residence exceptions and move on.
City staff preferred the simpler approach — "natural person, living thing" — but will provide council with options regarding exceptions for units held by a trust, LLC or other class of ownership.
The final point addressed in Geiger's memo was that of the potential establishment of a "waiting list for all business licenses (STRs) that are not renewed or a 'one-out, one' policy. -in "."
Members of the public who attended yesterday's Zoom meeting were strongly in favor of a one-out, one-in approach. The case has divided the council and caused some to back away from allowing primary residence exceptions. With the pause in issuing new 2D integrated licenses, some, like council members Shaunette and Dan Enright, favored waiting until the data collected by city staff around STR licenses is available. fully collected.
"I am much more in favor of protecting locals living and working and ensuring they have the opportunity to obtain a short-term rental license than I am for the one in one out," Enright said. . "It's enough of a compromise and a willingness to show good faith and want to come in the middle to allow an overrun of the current cap and provide more short-term rental license as long as they go to full-time premises. . And I feel like that's enough of a good faith effort and a willingness to compromise for me.
Without complete data, Mayor DeLanie Young said she felt yesterday's conversation was "premature".
"There are still a lot of things we don't know. And that ultimate question of whether we actually meet the cap with a principal residence exception or not? Or are we actually creating an exception at the ceiling? ", she said. "So there are a lot of things that are still unknown. … I don't think we're ready to give direction to staff.
Ultimately, Geiger will, in three weeks, develop language on part one input, output that will have an effective date of January 1, 2023. By then, the so-called "delta" number – the actual number of currently checked out and valid STR licenses will be known. Fee said that number is known – 759 – give or take duplicate licenses outstanding.
"We can make this as simple as possible. If people have the option of being able to renew their licenses until the end of the year, those particular licenses should have that option," she said. "However, with these specific duplicates, which may be just a handful of licenses, we should be able to have the ability to license new applicants and whether we do so in a way that is either a lottery or a list of wait, that's something we have to tackle now. Or we'll deal with it in eight months. But since we're having this conversation at this point, I think it probably makes more sense to close it and understand this process now that we are writing the language of the new ordinance.
The Council will examine the new amendments in first reading at its meeting on 22 February.