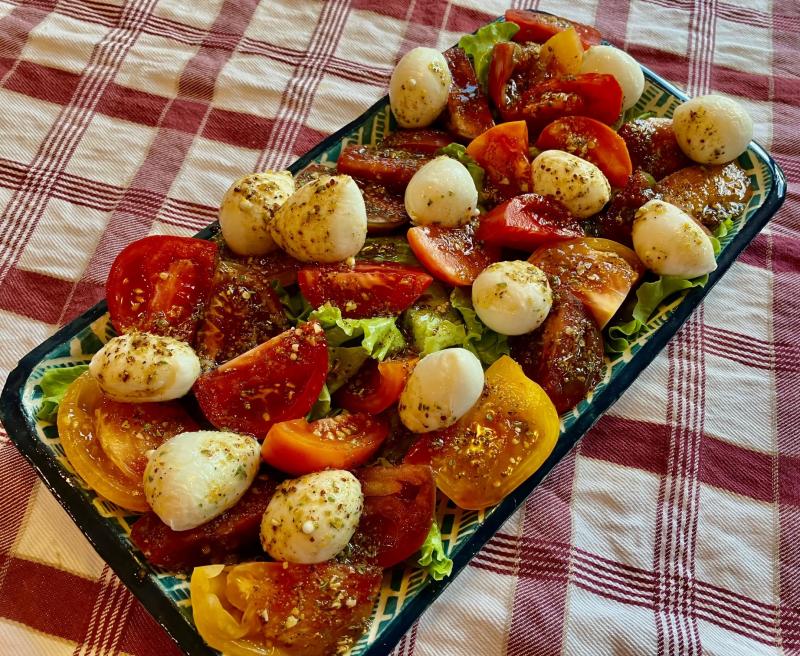 Holiday packaging for your palate
When packing for vacation, most of your choices will depend on where you're going (weather, activities, etc.) and where you're staying (luxury hotel, Airbnb, your own Airstream trailer) . Most of the time, you don't need to bring cooking essentials, unless the destination is one where you plan to do a lot of your own cooking instead of sampling the local cuisine.
Last time we rented a condo on a sunny Florida beach, the accommodations were fine, but the kitchen was a disaster. Many plastic utensils were bent, melted, or stained, the non-stick pans had long lost their liners, and the knives couldn't cut through butter, let alone chop the lovely vegetables we found at the local farmer's market.
After traveling a few times with our friends Pat and Marie, we've learned to pack some key items from our home kitchen if we're going to be cooking on someone else's stove. First and foremost is salt and pepper. If you're like me, you've come to discover either an almost empty saltcellar or a saltcellar filled with a cake of salt melted into rock by humidity.
You don't know how long those bottles of olive oil and vinegar have been sitting in the rental unit closet. Pack unopened bottles or buy new ones on your first trip to the grocery store. Add to your list the one condiment you tend to use on almost everything – Worcestershire sauce, kimchi or Tabasco. Again, bring unopened bottles or buy them the first day.
Never assume that the tea bags and coffee you find on the counter are recent additions to the decor; always bring your favorite brands to wake up to that delicious shot of caffeine you know and love. You'll need to purchase your preferred sweetening or whitening ingredients, be it soy or almond milk, half and half or cream, and real or artificial sweetener.
Also, invest in disposable storage containers so you can turn your delicious dinner into a convenient lunch the next day. Since some of these can be bought at nominal cost, my advice is to bring the key items that are too expensive to buy at your destination: knives and a microplane. Pack them in a knife roll or wrapped in a towel in your checked baggage, of course. If you drive to your destination, it's even better to find space.
One of the surprises we found on a recent trip was a set of cute wine glasses, but no bottle openers in evidence. I was grateful to have packaged a streamlined waiter's corkscrew, since not all wine bottlers have switched from corks to screw caps. You'll see other kitchen-travel packing lists that include baking sheets, but that seems a bit too much since you can still use the oven's broiler pan in a pinch.
I mentioned salt and pepper, which are basic, but you can also go to the Penzey spice website (www.penzeys.com) to see if there are any seasoning mixes that might be useful to have on hand. For example, for the tomato and mozzarella salad pictured, we used Penzey's Country French Vinaigrette dressing base. It includes a balanced mixture of salty herbs to mix with oil and vinegar.
It doesn't matter if you pack the essentials and buy the cheapest ingredients, or pack everything in your suitcase, your vacation rental will be so much more enjoyable if you have the essentials on hand, especially a knife. well-honed office!
Tomato salad
1 head of crunchy summer lettuce
2 lbs mixed heirloom tomatoes
8 oz ciliegin mozzarella
Vinaigrette*
Separate the leaves in the head of lettuce, rinse and pat dry. Arrange on a serving platter to cover the bottom of the plate. Depending on the size of the tomatoes, cut them into quarters or eighths and arrange them on the lettuce. Drain the cheese and divide the mozzarella balls on the plate. Drizzle generously with vinaigrette. Yield: 4 to 6 servings. *Make your own with a mix of Italian seasonings, olive oil and vinegar, or opt for your favorite brand in a bottle.
Mango chicken skewers
1 lb boneless, skinless chicken breasts
1 mango, peeled and cut into cubes
1 tablespoon olive oil
3 ears of corn on the cob
1 tsp butter
1 bunch of green onions
1/2 cup paprika
1 lime, quartered
Preheat grill to medium heat. Cut the chicken into 1 inch cubes. Sprinkle generously with salt and pepper. Thread the skewers with the chicken and mango pieces. Brush with oil and grill, turning occasionally, until chicken is cooked through, about 12 to 15 minutes. Hull the corn, remove the silk and cut the kernels from the cobs. Melt the butter in a nonstick skillet. Slice the green onions and add to the pan with the corn kernels; sprinkle with paprika. Cook about 5 minutes; turn off the heat and cover until the chicken is done. To serve, place a mound of corn mixture in the center of each plate, top with skewers and serve with lime wedges. Yield: 4 servings.
Holiday Kitchen Necessities List
coffee tea
Coffee sweetener
Coffee whitener
Seasoning
A corkscrew
kitchen knives
Microplane
Oil & vinegar
plastic containers
Salt pepper
Spice mixes