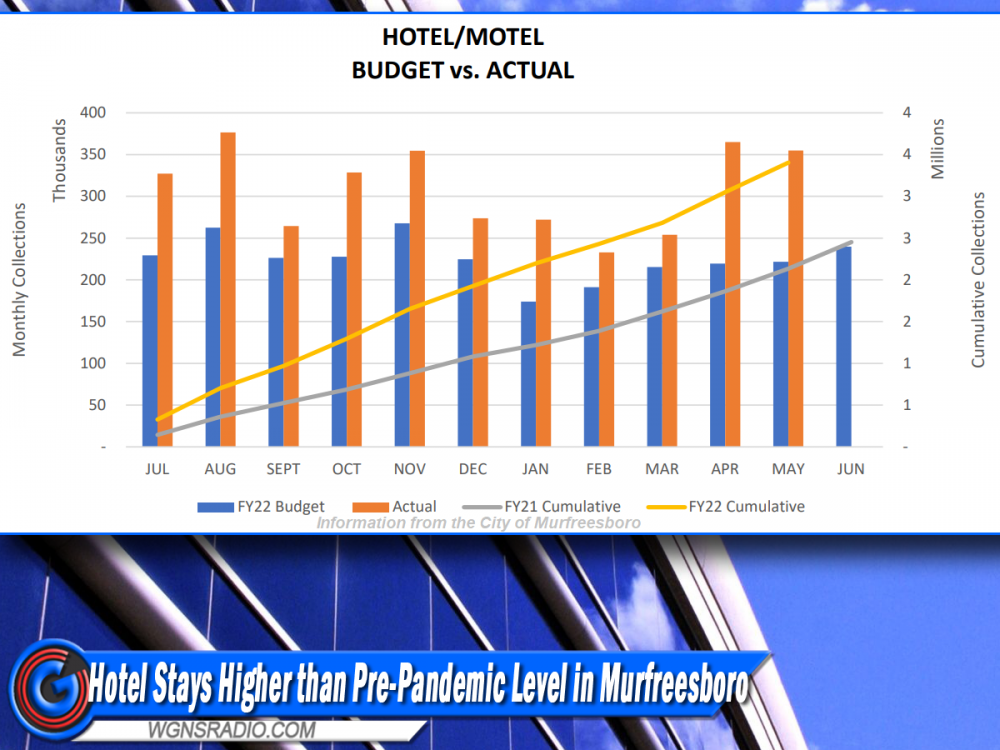 Hotel/motel tax collections are strong in Murfreesboro, indicating more hotel guests than pre-pandemic levels
Chart showing hotel/motel tax collections in Murfreesboro, TN
The hotel/motel tax collected in Murfreesboro continues to rise, which means that more and more people are returning to Rutherford County for their travels. So far this year, there has been a considerable increase in hotel stays, indicating an increase from pre-pandemic numbers. On top of that, tax revenue is more than half of what was projected in the city's original forecast.
This is a case where the budget overrun is positive because it represents higher tax collection figures, which means more people visit the Murfreesboro area and more hotel rooms are rented to customers.
Overall, hotel and motel tax collections increased 38% for the year. The recently released results also indicate that hotel stays, as shown by the collection of hotel tax, have increased by 60% compared to last year's figures through May. Reports also show that stays at local hotels are higher than pre-pandemic levels, according to tax collections for the city of Murfreesboro.
The city reports good news all around for Murfreesboro hotels and motels and suggests, "This upward trend is likely to continue."
More headlines from WGNS NEWS:
1.) Murfreesboro is the 144th most geeky city in the United States
2.) 16-year-old injured in Blackman Shooting
3.) Murfreesboro Women's Club 106th Anniversary
4.) Fireworks are set off, but currently prohibited
5.) Conference in Murfreesboro for those who want to take a broader stand against abortion
6.) TN Dept. of Labor shows jobs available in Rutherford County and more