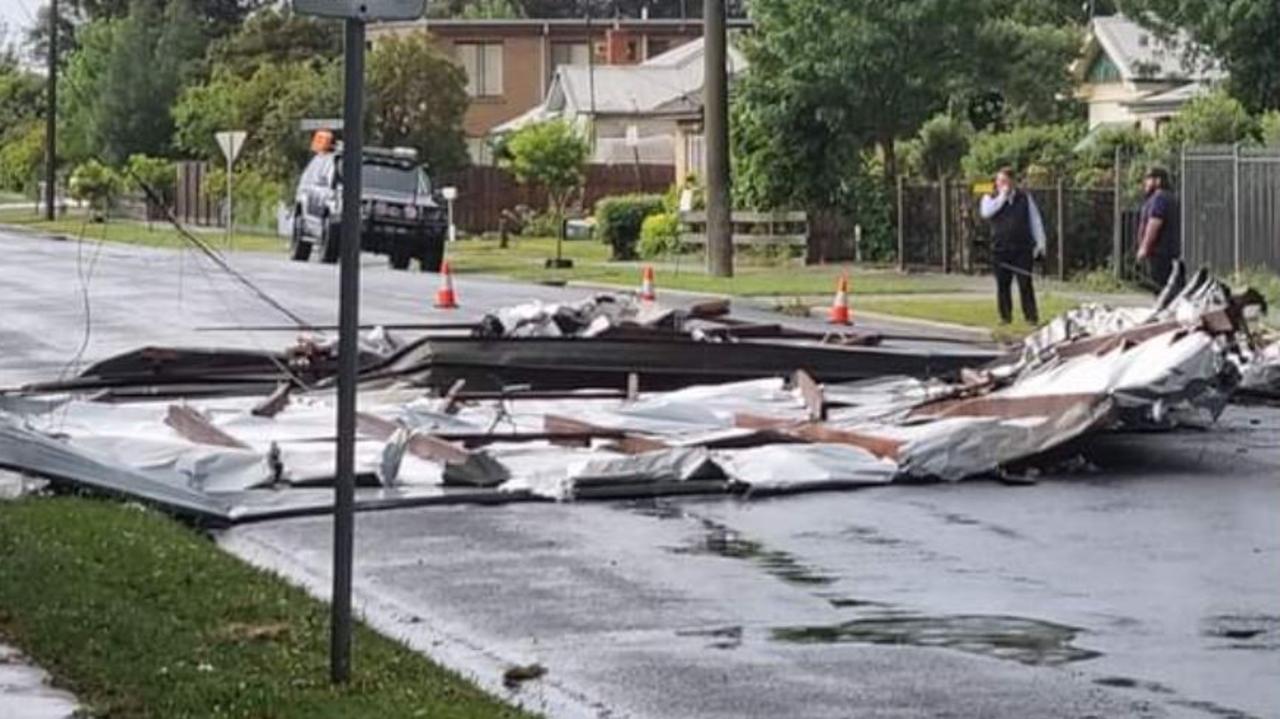 Melbourne weather alert: Travel chaos as city is hit by rain and wind
Melbourne was plunged into darkness and a roof ripped off a motel in Morwell as a savage tornado-like storm swept through Victoria, prompting hundreds of emergency calls.
Melbourne's CBD was temporarily plunged into darkness Thursday afternoon as thunderstorm clouds swept through history, with a severe storm hitting the eastern suburbs.
The rapidly moving trough came from the west, with threatening plateau clouds warning of numerous thunderstorms.
Thousands of homes spent hours off the grid Thursday night.
The Victorians are now busy cleaning up across the state, with the wet and wild start to summer stretching SES volunteers to the limit.
The service was impacted by more than 600 calls for help within 24 hours at 9 a.m. on Friday.
Fallen trees caused the most problems in the state during that time, with 482 calls for help, while 90 people asked for help with building damage and eight needed help. help with flooding.
SES Morwell's unit was the busiest all night, responding to nearly 80 calls, while Maroondah, Manningham and Knox were also hit hard by the storms.
A spokesperson for SES said the service had experienced the busiest winter and spring in its history, following severe weather events in June and October.
People have been urged to avoid areas recently affected by storms due to the risk of falling trees without warning.
The commander of the state agency SES, Alistair Drayton, urged the community to "stay vigilant" and stay away from large trees in affected areas.
"Our volunteers have had a busy night, with several units responding to calls for help for trees above their homes or vehicles," he said.
"While it can still be wet out there, it's a reminder to never drive through flood water.
"It only takes six inches of water for a small car to float, and this may be the last decision you make.
The weekend will bring some relief to the Victorians, with balmy, mostly sunny conditions forecast through Monday.
The Bureau of Meteorology has re-issued a minor flood warning for the Murray River near Corowa as water levels remain high after peaking on Wednesday morning.
The SES received 224 calls for help within six hours at 6.30 p.m., most relating to fallen trees and damage to buildings.
The roof was ripped off from Parkside Motel in Morwell.
Volunteers closed the road under York Street in south Melbourne to prevent reckless drivers from crossing the flood waters and buses replaced trains between Greensborough and Hurstbridge due to storm damage.
The strongest wind gusts were recorded at Frankston (100 km / h), Redesdale (96 km / h) and Swan Hill (91 km / h).
BOM senior forecaster Chris Arvier said while southeast Melbourne was hit by the most severe storms, no part of the city was spared.
Following reports of "mini tornadoes" in South Dandenong, Mr. Arvier said the city was likely to have been subject to "low tornado activity".
The emergency alert issued for Melbourne earlier Thursday was for the second day in a row, less than 24 hours after heavy rains and hail triggered flash flooding in Melbourne.
"Severe storms are approaching the Melbourne region from the west," the alert said.
"They can produce destructive winds and large hail."
A stormy asthma alert was also issued for central Victoria, including Melbourne, with pollen levels rated as high to extreme.
Mr Arvier said the humid and hot conditions had caused the "unstable conditions".
Mr Arvier said storms were not unusual at this time of year.
"The storm season for Victoria is from late spring to early summer," he said.
He said Wednesday's rainfall was "very hit and miss across the city," with Maribyrnong recording total rainfall of over 40mm while the eastern suburb recorded just a few millimeters.
"We saw flash floods with this rain falling in a very short period of time," he said.
"We also saw big sightings of hail in parts of western Melbourne as well.
"So pretty big thunderstorms, there were also strong gusts of wind."
The state emergency service received more than 230 calls for help before 7:30 p.m. Wednesday, most relating to building damage, flash floods and fallen trees.
The worst affected suburbs were in the west of the city, including Sunbury, Essendon and Maribyrnong, while wild conditions caused significant delays on Melbourne's roads.
Car crashes, flooded roads and extremely careful driving resulted in many major traffic jams – the 15 km journeys through the city taking up to three hours.
A train also derailed at Maribyrnong at around 4:45 p.m. due to difficult conditions.
Over 6,000 homes have also lost their electricity.
Melbourne Airport recorded a gust of 106 km / h while Fawkner Beacon saw winds of 96 km / h.
The SES has urged the Victorians to be extra careful this season as the State enters its second summer at La Nina.
"With wetter watersheds and fuller water storages than in 2020 – as well as our experience from last year – we know Victorians are at increased risk of flooding," the operations manager said. Tim Wiebusch.
"Please don't cross the flood waters, this may be the last decision you make.
"Even if you think you know the road, you can't see how washed out it has been. It only takes six inches of flood water for a car to lose traction, which unfortunately is how most people lose their lives in a flood.
Major flooding has also affected most of Queensland as the body of a 73-year-old man was removed from a ute trapped in floodwaters near Toowoomba.