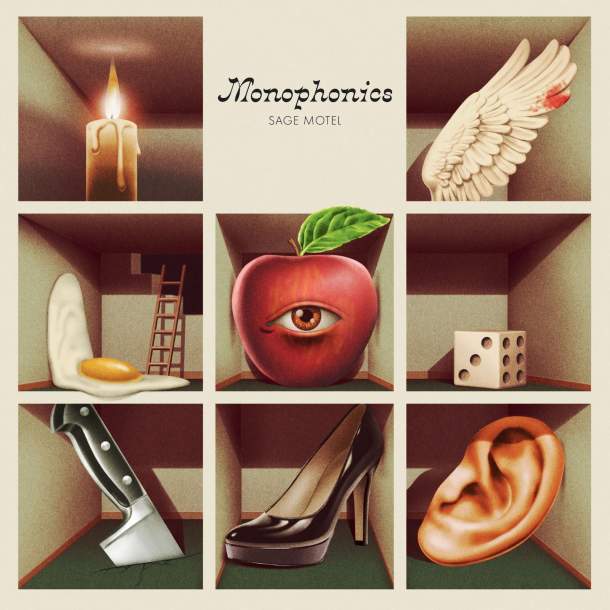 Monophonics releases "Sage Motel" video
Today based in the Bay Area Monophonic released their video for "Sage Motel", the title track of their new feature via Colemine Records. The world's first psychedelic soul band, Monophonics cordially invites you to witness the grand reopening of the once thriving, once vibrant establishment, the legendary Sage Motel. A place where people experience the ups and downs of human existence. A place of big dreams and broken hearts, where people arrive never knowing how they got there. This is where individuals find themselves at a crossroads in life.
Watch the Monophonics video for "Sage Motel"
"We set out to make a film that captures the spirit of the song – encompassing all of the desperation, lust and mess that can often be encountered when falling in love with someone; especially at the wrong time", explains Kassy Mahea, director of the clip "Sage Motel". "The Sage Motel I imagined is set in rural America out of nowhere and frequented by characters that are flawed but, at the same time, interesting and beautiful. This video is an ode to the brave, the passionate, the lost, the hopeful, and is another glimpse into the world within the Sage Motel."
What began as a quaint motorhome and common pit stop for travelers and truckers in the 1940s, Sage Motel morphed into a bohemian locale in the 1960s and 1970s. Artists, musicians and wanderers of all types would stop there as the seedy property pumped heinous sums into high-end renovations, eventually attracting some of the era's biggest acts. But when the money ran out, the Sage Motel became a place where you rent by the hour. Sage Motel, Monophonics' fifth studio album since 2012, tells its story.
"'Sage Motel' was the second song we wrote for the album and was ultimately the spark that started this whole concept and story," says Monophonics bandleader Kelly Finnigan. "It's a song about a complicated relationship created from unmatched physical chemistry, lust, passion and love. It's the struggle of chasing something that will never be a reality, no matter what. It doesn't matter how badly you want it Some things are meant to happen, but aren't meant to happen… and it all happens at the Sage Motel.
Produced by Kelly Finnigan, Sage Motel captures a timeless sound that mixes heavy soul and psych-rock. With their previous album, It's Only Us, selling over 10,000 physical units and garnering over 20 million streams, Monophonics have earned a reputation over the past decade as one of the most impactful bands in the country. . It's Only Us has been praised by Billboard, FLOOD, Cool Hunting, etc.
If these walls of the Sage Motel could talk, this is what they would say. So join us as we examine where stories are told and experiences take place…..and sink into a soft pillow of soulful psychedelia…..at the Sage Motel.
Sage Motel Track List:
1. Registration
2. Sage Motel
3. Let it sink in
4. The shape of my tears
5. Broken Boundaries
6. I like you better
7. Never stop saying those words
8. War Paint
9. Crash & Burn
10. Departure
Tour dates:
June 1 – Teragram Ballroom – Los Angeles, CA
June 4 – The Chapel – San Francisco, CA
June 11 – Wichita River Festival – Wichita, KS
August 7 – Stern Grove Festival – San Francisco, CA