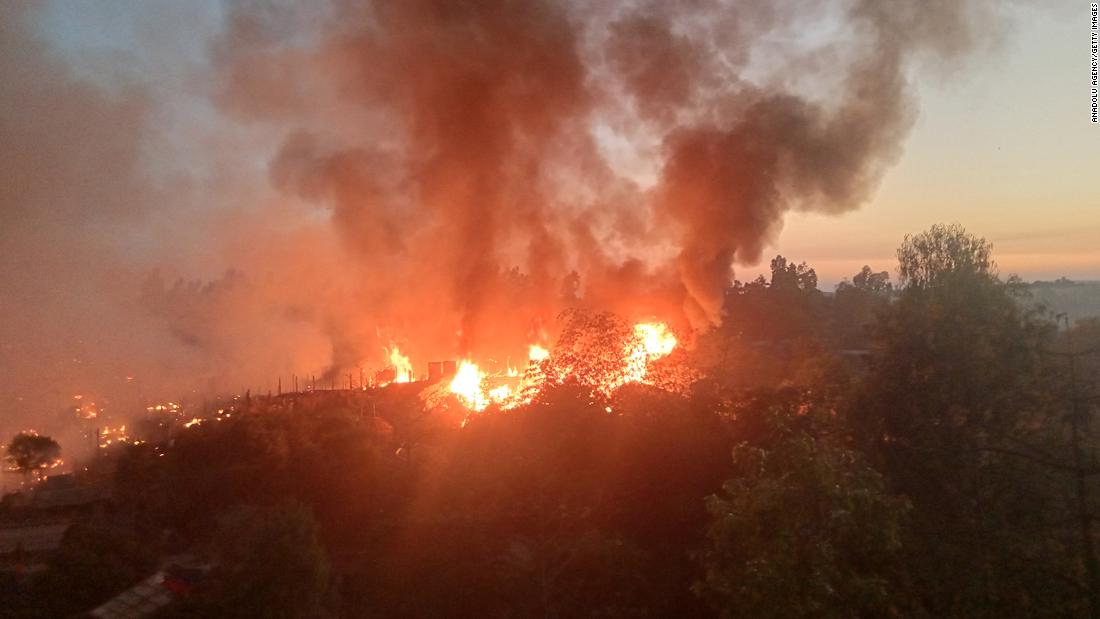 Rohingya refugees: fire destroys hundreds of homes in refugee camp in Bangladesh
The fire affected Camp 16 in Cox's Bazar, a border district where more than one million Rohingya refugees live, most of whom fled army crackdown in Myanmar in 2017.
Mohammed Shamsud Douza, a Bangladesh government refugee official, said rescuers contained the blaze. The cause of the fire has not been established, he added.
"It's all gone. Many are homeless, "said Abu Taher, a Rohingya refugee.
Last Sunday, another fire ravaged a Covid-19 refugee treatment center in another refugee camp in the district, leaving no victims.
A devastating fire in March swept through the world's largest refugee camp in Cox's Bazar, killing at least 15 refugees and torching more than 10,000 slums.
Estimates of the number of Rohingya refugees living in Cox's Bazar range from 800,000 to over 900,000, according to the United Nations High Commissioner for Refugees and Save the Children.
Most of the refugees have fled persecution in neighboring Myanmar.
In 2016 and 2017, the Burmese military launched a brutal campaign of murder and arson that forced more than 740,000 people from the Rohingya minority to flee to neighboring Bangladesh, prompting a hearing of genocide before the International Court of Justice. In 2019, the United Nations said "serious human rights violations" by the military continued in the ethnic states of Rakhine, Chin, Shan, Kachin and Karen.
Myanmar denies genocide accusations and maintains that military "mine clearance operations" were legitimate counterterrorism measures.